Anti DDoS Guardian stops DDoS attacks, RDP brute force password guessing attacks, slow HTTP attacks, SYN attacks, IP flood, TCP flood, UDP flood, ICMP flood, bandwidth attacks, etc.

"Anti ddos guardian is amazing......To say the least......and we finally got around to installing the program on there......and now no more DDoS......it works 100%......when I was under attack with a 20,000 botnet......and it blocked attacks of 900mb/s"

Click here to view DDoS protection video made by this user.

-Col Austen

"I must really compliment you on your work. Anti ddos guardian is amazing......It works better than anything we've used......It's too cheap......People will offer a lot more for this kind of protection......Especially once they know how well it works......There is no other software that I've seen that actually worked well......We've had trouble with DDoS attacks with our game servers for a very long time......We've used hardware mitigation and other mitigation services......But none of them ever worked......"

-Daniel Bowen

"anti ddos guardian blocks ddos attacks generally......so it does the required job......before i found your program , my friend paid 300$ to ......but you know , their programs made setting up the program hard for user i think......"

-Muhammod Yunus

"I read the software detail, and I test it. and It seams it's working."

After purchasing, You will be able to use it unlimited and forever. BeeThink guarantees ONE YEAR free updates.

FREE support for all users, both registered users and unregistered users.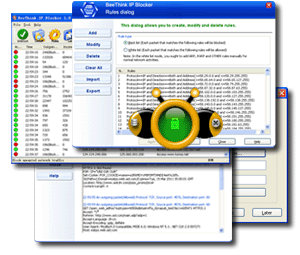 Anti DDoS Guardian - Over 5000 Internet servers use Anti DDoS Guardian to stop DDoS attacks, including IIS servers, Apache serves, game servers, Camfrog servers, mail servers, FTP servers, VOIP PBX,SIP servers and so on.

Stop SYN flood, TCP flood, UDP flood, ICMP flood, bandwidth attacks

Stop Slow HTTP Get&Post attacks

Protect Windows Remote Desktop Connection from password brute force attacks

Support Windows 2000, XP, 2003, 2008, Vista, Windows 7, Windows 8 and Windows 2012, in 32 bits and 64 bits

Who use Anti DDoS Guardian?
Website masters who want to protect HTTP servers, proxy servers, online game servers, Email serves, FTP servers, Internet forum servers and VoIP PBX SIP servers.

IT administrators who need to set special TCP/IP protocols based firewall rules.

Network flow and TCP flow management. Anti DDoS Guardian limits network flow number, client bandwidth, TCP connection number of each client, UDP/ICMP packet rate.

TCP half-open connection control.

Blocking country IP addresses.

Blocking certain IP addresses or ranges of addresses.

Firewall protection. The firewall rules are based on remote IP addresses, ports, protocols, and other TCP/IP factors.

IP black list and white list. Anti DDoS Guardian controls users' access to the Internet within particular areas by setting black list or white list.

Supporting many IP list formats, such as Apache's .htaccess.

IP list automatic updating.

Exceptional rules.

Real-Time network activities monitoring. Anti DDoS Guardian monitors each incoming and outgoing packet in Real-Time. It displays local address, remote address, and other information of each network session.

Looking up IP addresses. Anti DDoS Guardian looks up the remote IP addresses and ownership information.

Log files. Anti DDoS Guardian records each blocked and allowed IP address.

Running Anti DDoS Guardian as a Windows service.

Supporting 64-bit Windows Operating System, such as 64-bit Windows 2008, 64-bit Windows Vista, 64-bit Windows 7, 64-bit Windows 8 and 64-bit Windows 2012.

Anti DDoS Guardian

Full Version Information
Current Version: 3.1
Release Date: Aug 17, 2013
Language: English
File Size: 2,335 KB
Trial Limitations: 5-day trial
Price: $99.95

One Year Free Updates
There is no additional costs for one year updates after purchasing Anti DDoS Guardian. We will email new versions to registered users. If any registered users did not received the new registration code, please email us.
| | | | | |
| --- | --- | --- | --- | --- |
| Version | Date Released | Status | Release Notes | Download |
| 3.1 | Aug 17, 2013 | Minor update | stop RDP brute force attacks | Download Version 3.1 |
| 3.0 | May 31,2013 | Major update | Support Windows 2012 and Windows 8 | |
| 2.3 | Sep 9, 2012 | Minor update | Stop slow HTTP attacks | |
| 2.2 | Jun 16, 2012 | Minor update | Bugs fixed | |
| 1.0 | Feb 17, 2012 | New Release | Stop DDoS attacks | |
| | | | | |
How to stop DDoS?
Anti DDoS Guardian stops DDoS attacks by several settings, such as the maximum number of TCP connections, bandwidth of each client computer, the maximum number of incoming UDP/ICMP packets per second, and the maximum number of incoming TCP concurrent half-open connections, etc. These functions can be successfully used to block many DDoS attacks.
How does Anti DDoS Guardian detect RDP brute force attacks?
Most Internet Windows servers suffer RDP password brute force attacks without being noticed. Anti DDoS Guardian reads the Windows system RDP failed logging information in Real-Time and blocks those IP addresses which attempt to log on users' servers with random usernames and passwords.
How to use Anti DDoS Guardian as an IP blocker to import IP list from other applications?
Users can use command "IPBlockerDemon.exe importlist block (or allow) filename" to import IP blocking list. This feature is particularly useful for those applications which can create bad IP address list from suspicious network activities. Once an IP list file is created, users can use the above command to apply the new IP blocking list at once.
How to block country IP addresses?
In some cases, we need to block country IP addresses, especially for website masters who want to protect Windows servers, such as HTTP servers, mail servers, FTP servers, VOIP PBX and SIP servers. Anti DDoS Guardian can be successfully used by website administrators on Windows servers machines, in a production environment, to easily ban traffic from whole countries. Users can simply download Apache's .htaccess files which can be easily downloaded from a lot of websites and then import the .htaccess files.
Help us to improve Anti DDoS Guardian
If you want to help us to develop a more effective Anti DDoS firewall, please download the survey file and fill out it. We appreciate for your help, as it will help us to improve Anti DDoS Guardian in the future. Please send the survey file back to beethink@beethink.com if you finish the survey. Thanks in advance!